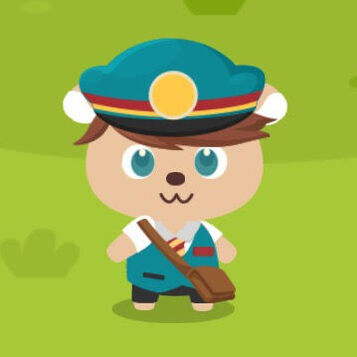 Thomas is bus driver who can be found roaming near the Notice Board. He is a cheerful person who makes sure safety comes first. He is a bear in a cyan uniform with brown hair.
While walking around
When chatting
"Seeing all the smiles when people reach their destinations fills me with great joy. Someday, I will write these stories."
"It's been a busy day at the station! Preparing for trips are exciting, isn't it?"
"Hey Ho...! Always check your blind spots to be safe, alright? Are you ready to take on the world?"
"Have you been to Maggie 's cafe for a cuppa? It's really cozy and nice in there"
"Lots of pets love to hang out at Maggie 's cafe. It's a nice place to meet new friends!"
"When I have free time to spare, I'd always visit Calvin at the wharf for a chat!"
"Always am grateful for Barnie 's help in maintaining my good looks!"
"Bubbles has to be the most jovial and happy pet in town! I admire her zest for life!"
"Don't think there I could find anybody more helpful than Dizzy ! Such a nice boy!"
"My favourite mode of transportation is the bus! Beautiful sceneries along the way never fail to cheer me up!"
"This bus engine vreakdown s puzzling! I bet Albert could help me figure out what's wrong!"
Talk to him to give a random user a 'Surprise Visit'.
In the trivia, there is a question that asks what's Thomas 's hair colour.